Berkshire's Regional Branch Manager Presented with the 2022 Vermont Bankers Association, Inc. (VBA)
Berkshire's Regional Branch Manager Presented with the 2022 Vermont Bankers Association, Inc. (VBA) Woman of the Year Award
Pittsfield, MA Mar. 2, 2022 –Berkshire Bank, a leading socially responsible community bank with branch locations in New England and New York, is excited to announce Michele Hunter, FVP, Regional Branch Manager for Capital NY/Vermont was bestowed the 2022 Vermont Bankers Association, Inc. (VBA) Woman of the Year Award on March 2. This award was presented during the 6th Annual Women in Leadership Conference to celebrate a woman in banking who excel at her profession, are active in the community, and help other women succeed. The VBA's mission is to promote an environment which fosters a vibrant banking community, thus supporting a prosperous Vermont economy.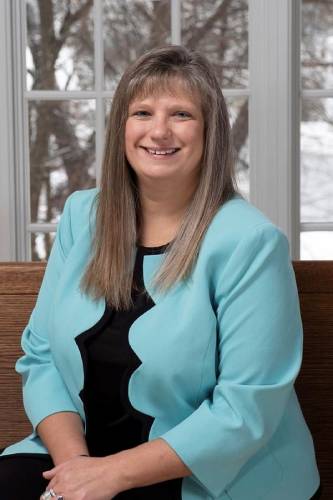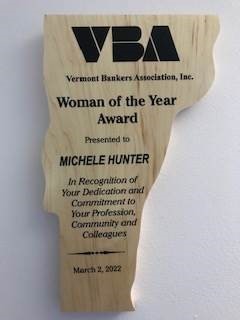 Hunter was nominated by fellow colleague, Carly Remington VP, MyBanker Digital Sales Program Manager. Remington describes Hunter as a "fierce, passionate, and one of the most caring people who touches the lives of those around her as a volunteer." She also makes significant impact with her employees as a mentor.
Outside of work, Hunter is active volunteer with Relay for Life in Bennington, VT, Operation Adopt-a-Soldier, Green Up Day, Bennington Area Habitat for Humanity, and Neighbor to Neighbor in Manchester, VT. Hunter's volunteer work includes packing meals two times a week for the Vermont Everyone Eats Program in Rutland County. The meals include vegetables, starch, carbs, and protein to vulnerable individuals at various distribution sites. Hunter also served as a volunteer girls tournament director for the Adirondack Northstars, one of the oldest and largest all-girls ice hockey tournaments in the Northeast.
During March, Berkshire Bank will celebrate Women's History Month by recognizing women who inspire others.
< Go Back